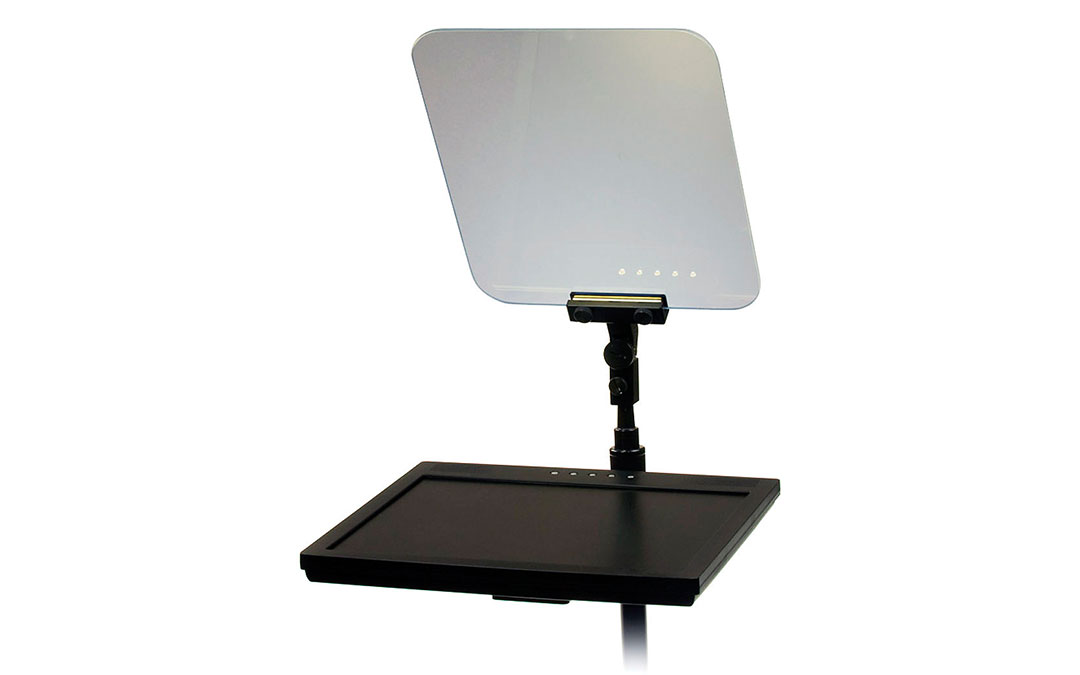 19'' PRO LINE STAGE PRO PRESIDENTIAL TELEPROMPTER
ProLine StagePro are teleprompters for presentations, at the forefront of technology
With extensive experience in the United States as Presidential Teleprompter system of the White House.
It consists of two 19″ monitors (48.2 cm) with composite video and VGA inputs.
2 teleprompter stations that can be adjusted up to 6'6″ (2m) high.
The units are usable up to approximately 25 '(7.6 m) apart.
The set allows displacing the visual field of the speaker to the audience.
Cristal UltraClear HD is made of ultra pure glass, low iron content that prevents color change and loss of light.
Its unique mounting system, allows the screen to be placed at ground level for a discreet appearance.
The screen can also be raised to half the height of the stand and concealed with a black skirt included.
In this elevated position, the visible image is larger and brighter than when placed at ground level.
The support rests on a triangular base of 9 Kg to operate without risk of overturning.
Compatible software for PC o MAC
The Prompter People Teleprompters work on both PC and Mac platforms
We offer all the features you need in a professional production environment
The Turnkey Software consists of a USB memory, which allows you to run it on any computer, In this way the client can use their own computer for the presentation
Consult
Our equipment and qualified personnel are ready for your project