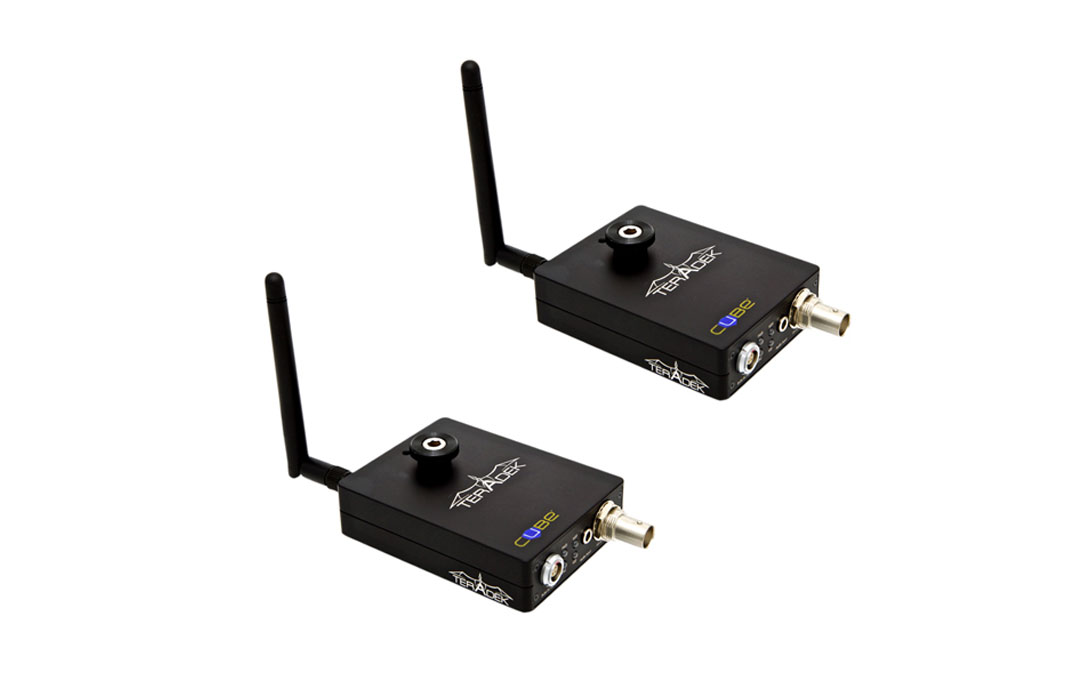 Wireless link transmission HD video asist wireless HD streaming to live internet
Video Assist
All-in-one HD Pre-configured Wireless System Unique in the country.
Without cables, the entire system operates wirelessly.
Providing everything needed for Proxy Recording, remote monitoring and analysis of video via iPads and HD field monitoring.
Details and system characteristics
2 Transmitters CUBE TX HD-SDI SD / HD Dual Band 2.4 / 5.8 Ghz.
2 Receivers CUBE RX HD-SDI SD / HD Dual Band 2.4 / 5.8 GHz.
1 Apple Server.
1 Apple Streaming Server
Sistema de Baterías para CUBE TX y RX.
Battery System for CUBE TX and RX.
Power sources for CUBE TX and RX.
Weight of each CUBE TX and RX 200grs approx.
Energy consumption of each CUBE TX and RX 2.5W-3.8W approx.
Latency between CUBE TX and RX 1.8 to 1.2 seconds Approx.
Link distance 100m to 300m depending on the line of sight.
Optional: HD-SDI / HDMI converters – HD-SDI / ANALOG
Supported Resolutions
1080i 50/59.94/60
1080p 23.98/24/25/30
1080psf 23.98/24
720p 50/59.94/60
576i 50
480i 59.94/60
Allows to perform 2 wireless links SD / HD dual band 2.4 / 5.8 GHz.
Transmit live to the Internet via WiFI via Ethernet cable or 3G / 4G Modems.
The system has a Video Streaming Server based on Quicktime of Apple Streaming Server, which optimally reflects the flow of emission to dozens of clients (for example iPads, iPhone, Mac Book) without overloading resources.
The RX HD-SDI SD/HD receivers connect directly to field monitors SD/HD, SD/HD Switcher or any required system.
Proxy recording
The system detects when the camera begins and ends recording and wirelessly creates an identical .MOV, .MP4 or H.264 file in real time on the Apple Server built into the system.
Each file has the same name and timecode as the original recording of the camera.
These files are available immediately for playback via iPads, iPhone, MacBook or SD/HD field monitors via the Wireless Receiver.
Note:
The automatic recording system is compatible with cameras of some brands. (A compatibility test must be performed)
If the protocols are not compatible, the operator of Video Assist performs the operation manually on the Apple Server.
The ability to watch live high definition video wirelessly significantly simplifies the workflow in the Set.
It offers the Director, Producer, cameraman and Clients the confidence to decide: "We have the shot", maintaining its production on time and at a very low budget.
The wireless transmission provides freedom on the Set, instead of long and cumbersome cables, frees attachments to the operators of camera, Steadicam, cranes and traveling.
Convert IPads Devices and HD Monitors to wireless field monitors.
Internet transmission
With a simple press of the button Go Live of the CUBE, it will transmit directly to your website, Facebook page, or to a content distribution network (CDN) of your choice.
Each CUBE has a wired Ethernet port or a USB port to directly place a 3G / 4G Modem.
CUBE supports multiple transport protocols including RTMP, RTP/RTSP, Push RTP, MPEG-TS and HTTP Live Streaming, which makes it the most versatile wireless video encoder available.
Consult
Our equipment and qualified personnel are ready for your project